General Kit
prepare to test
General Kit
tips to test baby and paint
General kit
reading results
General kit
high heavy metals results
Water Test Kit (2-test pack)
Adrenal Function Urine Test
Sulkowitch Urine (Calcium) Test
Heavy Metals Test - General Kit
Monitor your body and environment for HEAVY METALS contamination
Heavy Metals tested includes:
CADMIUM, COBALT, COPPER, LEAD, MANGANESE, MERCURY, NICKEL, ZINC
Preparation for Testing


Patient/User Preparation
Various medications or supplements taken by the patient/user may have an impact on the results of the test. Birth control pills often produces elevated levels of copper in the blood. Drugs taken for high blood pressure frequently contains diurectics which increases the amount of liquid discharged and dilute the urine. The intake of Vitamin C should be discontinued 3 days before the test. It is also recommended that use of iron and trace element supplements be stopped for a few days before the test. The patient/user is advised to limit the intake of liquids 24 hours prior to the test.

Urine Specimen Preparation
The urine to be tested should come from second morning urine. Urine samples taken during the day may be tested but the results might be less accurate. Use 3 - 4 ml of the urine sample for each testing.

Sputum (Saliva) Specimen Preparation
Depending on the surface condition of amalgam fillings, their release of mercury ions into the oral cavity may be screened accurately. Patient/User need to chew a stick of sugarless gum for about 10 minutes. Please do not swallow the saliva and collect about 2-3 ml. of saliva for screening.

Water Preparation
No preparation is necessary. The tap or other water collected can be tested and the reaction (result) would be immediate. Always use first morning water sample from faucet or tap. Use 3 - 4 ml of the water for testing.

Dust, Dirt or Other Materials (paint, rice, milk, food, etc.) Specimen Preparation
Take a small amount of the material to be tested and place in a plastic container. Add about 30 ml. of distilled water to the material. Shake the contents vigorously and allow to settle overnight (at least 24 hours). Screen the water the solution for presence of heavy metals. Use 3 - 4 ml of the sample solution for testing.

Dishes, glasses and other solid items
Use distilled water. Pour distilled water into ceramic or lead crystal. Let the solution to stand for at least 12 hours before screening the solution. Use 3 - 4 ml of the sample solution for testing.

pH of sample solution
For an accurate result, the sample solution should have a pH of at least 5.5. Saliva, urine and tap or other water usually have a pH of 6 or higher. However, the pH of saliva and or urine of individuals with serious health issues may be less than 5.5 and should be checked prior to testing.



---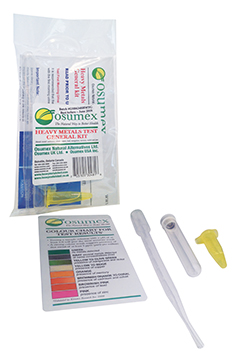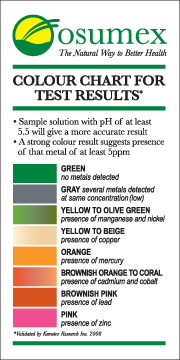 Images of the General Test Kit, contents and colour chart to check result of test

A strong colour is indicative of the presence of the metal indicated to at least 5 ppm
The colour results were validated by Kemetco Research Inc. based in Richmond, British Columbia, Canada - 2008



Osumex HM-Chelat is most effective in eliminating heavy metals contamination in the body




---

The above information is provided for general educational purposes only. It is not intended to replace competent health care advice received from a knowledgeable healthcare professional. You are urged to seek healthcare advice for the treatment of any illness or disease.

---

Health Canada and the FDA (USA) have not evaluated these statements. This product is not intended to diagnose, treat, cure, or prevent any disease.

---