Iron Kit (Reg)
how to test
Iron Test kit (Sen)
how to test
Iron Overload
Hemochromatosis
Water Test Kit (2-test pack)
Adrenal Function Urine Test
Sulkowitch Urine (Calcium) Test
HMT IRON SENSITIVE TEST KIT
Number 26 on the "periodic table" of elements
Tests the presence of ions of iron to a high degree of accuracy to detect contamination in the body and on a wide range of materials in your environment
How to Test
Preparation of Test Solutions
Remove the 3 vials and pH strip/scale from the large test tube
Add 10ml of the sample solution to be tested to the large test tube
Check pH of the sample solution by dipping the pH strip (about 1/2 cm.) into the solution and comparing to the pH scale provided. If the pH is higher than 4.0 add 1 drop of reagent 2 and then check with the pH strip again after cutting off the used section.
If the pH is below 3.0, add one drop of reagent 3 and then check with the pH strip again after cutting off the used section.
Repeat procedures (iii) and (iv) if necessary until the pH reading is between 3.0 to 4.0
The solution is now ready for testing
Conducting the test
Add all the contents in the vial with yellow cap (reagent 1) to the sample solution in the test tube
Cap the test tube and gently turn it up and down 2 - 3 times
Wait 3 minutes and check the colour of the solutions against the colour strip provided on the box
Take note of the reading from the colour chart
If the result is higher than 0.25 ppm (maximum range), and a more detailed result is required, dilute the original sample solution with distilled water by 5 or 10 times the volume and re-test with another kit. Then multiply the result by 5 or 10 to obtain correct value in ppm.


The numbers indicate parts per million.


---
Check out the iron in your body with our easy to use, home-based, HMT Iron Test Kit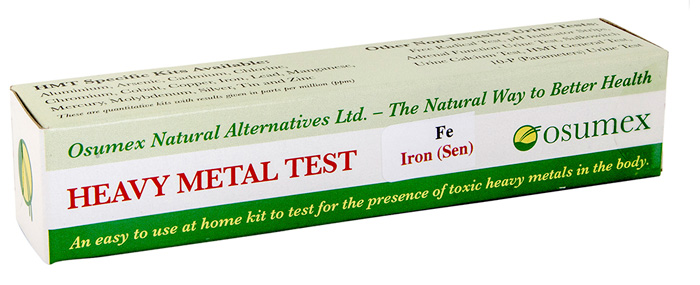 Sample of a HMT Iron Sensitive Test kit
---

The above information is provided for general educational purposes only. It is not intended to replace competent health care advice received from a knowledgeable healthcare professional. You are urged to seek healthcare advice for the treatment of any illness or disease.

---

Health Canada and the FDA (USA) have not evaluated these statements. This product is not intended to diagnose, treat, cure, or prevent any disease.

---